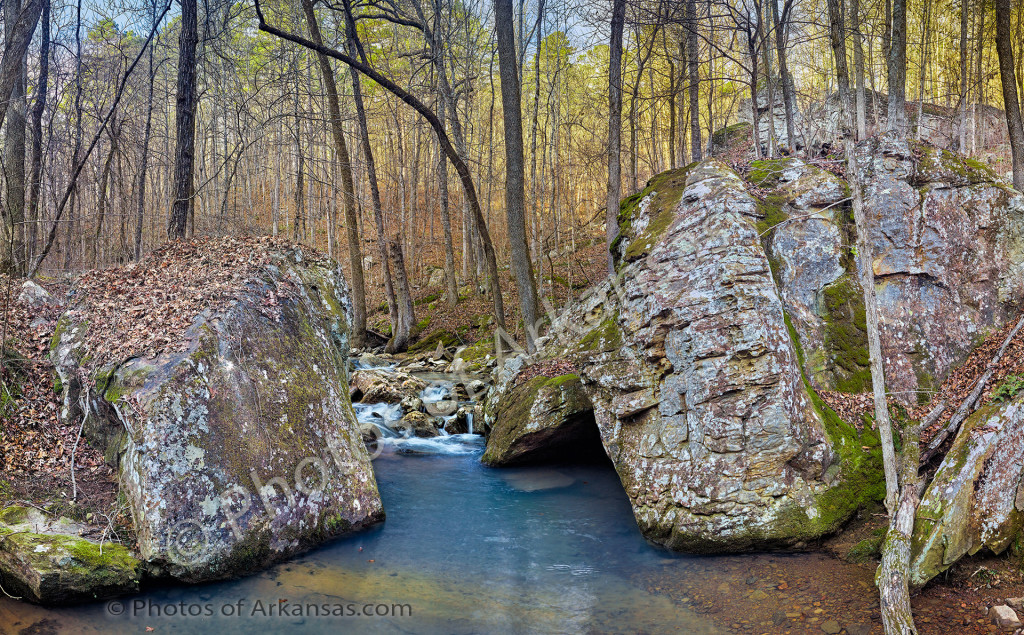 PLEASE NOTE:  All of the photography of this website is the property of www.photosofarkansas.com and is copy right protected.  Do not copy any of the images on this site to paste on Facebook, Pintrest, or any other website without the permission of Paul Caldwell.  Years of time have gone into capturing these photographs, please respect that.  I do not take copy right infringement lightly.  If you have a need to display any of my work on your site ASK me before you Copy & Paste.
Taken with a Phase One XF camera & IQ260, 55mm LS lens and CL-PL.  Image is composite of 3 vertical images with the 55LS set to it's nodal point.
This past winter I started trying to find some new places to photograph in Arkansas.  I have worked Falling Water Creek and Richland for years and still love that part of Arkansas, but I felt it was time to move on.  I had heard a lot about White Oak Mountain from Chris Kennedy and wanted get a look at the area in winter.  If you hike into a spot in Arkansas for the first time, I always recommend coming in winter or early spring as you will see a lot more of the surrounding areas.  Later on in summer the trees will hide a lot and the undergrowth makes hiking in general much harder.
White Oak Mountain, is actually a long ridge that runs east and west near Hector Arkansas.  To get there, you need to drive to Hector, through the town and as soon as cross a small bridge over a minor creek, you will see a dirt road heading up to the right.  Stay on this road for about 7 miles, there will be some turn offs but once you find the right spot, you can hike right down into a great creek valley.  This creek has a nice run which offers several nice smallish waterfalls in quick succession.  If you hike up the far hillside, you can find some much more dramatic waterfalls, but these will only be running after a locally heavy rain.
What I found most interesting on White Oak mountain was the number large boulders that were just laying in the creek.  This reminded me of Richland creek, however the terrain is a bit more open than on Richland.
Once you are done in the creek valley walking is very easy and you can make good headway.  There is a RV trail and a marked hiking trail that will take you down to the creek.  This creek outwardly appears to be about 1/5 the volume of Richland creek, but the unique geography surrounding the creek makes the hike worth a trip.  I would warn anyone that crossing this creek in high water could be a bit dangerous as the bottom is full of large mossy rocks easy to slip on.
I hope to make another trip here in the future to see what the area looks like in Spring with more water running.
To capture this photograph, I used a Phase One XF camera with a IQ260 Medium Format back and 55mm LS lens.  The photograph was taken with a nodal panorama setup and I used the captures to make the one horizontal shot.  To slow the water down I used ISO50 on my camera and a polarizer.  As you can see in the photograph, the light was already marching up the far side of the valley, so I did not need a ND filter.  The raw files were converted in Capture One software and then I used PtGui to stitch the 3 images together.  I then added a bit of Topaz clarity to my liking.
Taken with a Phase One IQ260 & Rodenstock 28mm HR lens, with an Arca rm3di, image created by combining 2 nodal pans. Mt. Magazine, which is the highest spot in Arkansas at around 2700 feet, has some wonderful views.  One of the best is from from rock ledge below the Lodge where you have a wonderful view of the Blue Mountain, and Blue Mountain Lake off in the distance.  This view is looking southwest, and shows the fall colors at peak or near peak.  The deciduous trees in the area include, Maples, Hickory and various Oaks.  You can also see the effect of the massive amount of forestry cutting in the lower valley which is beyond the boundary of the State Park where all the trees are now pines.  These are not the natural pine to Arkansas, the short leaf, but instead Loblolly and or Slash pines, both of which were planted after the clear cuts were made.  All of the lower foothills of Mt. Magazine are covered in this type of tree.
This is a hard shot to get in one frame with a 4:3 ratio camera like the IQ260 Medium Format back, so I worked in a series of pans, where I set the 28mm Rodenstock at a spot on my tripod that was close to the nodal point for the lens.  This allowed me to pan across the scene and then combine the images into one larger frame later on.  On this day, the sky was a radiant blue with some very high cirrus clouds that were rolling in from the west.  With a tech camera like the Arca rm3di, and the Rodenstock 28mm lens, this type of shot is a bit more difficult since you have to correct for the color cast the lens creates.  I used the Rodenstock Center filter on the lens and a linear polarizer to enhance both the blue in the sky and fall colors, as the sun was over my left shoulder and provided perfect conditions for polarization.
This is popular spot on the weekends, but during the week, most times you will not find anyone around so plan your trips accordingly.  Make sure you take enough time to drive around the entire summit of Mt. Magazine as there are many great vantage points for photography.
Copyright © Paul Caldwell, Photos of Arkansas