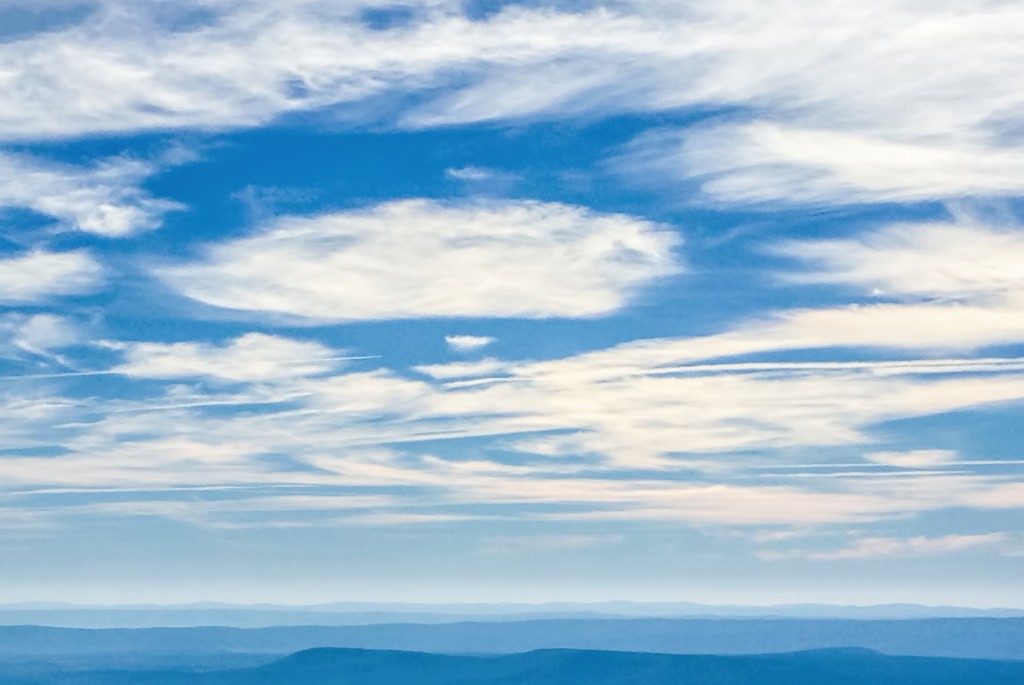 A Circle in the Clouds on Mt Magazine
Taken with an iPhone 5, all settings automatic.  Every once and a while I will take out my iPhone 5 and shoot a shot of something that has caught my eye, something that is changing too fast for me to get out the "real" cameras.  On this day, I was headed back over to the south side (Havana Arkansas) of Mt. Magazine when I saw this really amazing cloud formation.  I knew that by the time I setup my other gear this scene would be gone, as clouds are constantly changing.  I shot a couple of shots before I finally got the iPhone to realize I was trying to expose for the sky and not the foreground.  I am not a big fan of the iPhone camera, just way too much noise and not enough details, but the world seems to think that this type of technology is the future of photography, which is a bit sad.  Ok I guess if you want to post it on Facebook or Pintrest  or whatever the most current instant photo gratification website is at the moment.  For it was the fact that is one cloud was just sitting in a perfect circle and all the other clouds were moving away from it, almost like the way a water drop creates a ripple.  The sky was also full of jets that day and I just left the contrails alone.   The original image had so much noise in it (which surprised me since I had so much light) that I worked it up in both Lightroom and Photoshop and then added a bit of Clarity from Topaz.  I re-discovered Mt. Magazine in 2013 and plan to make many more trips there as it's such a unique spot in Arkansas.
Taken with a Sony Nex-7, Sony 18-200mm lens @ 18mm F5.6, Iso 100. I like to work the evening skies in the early summer time as many times you are treated to a play of light as seen on these clouds.  I had gone to the Petit Jean visitor center at Mather lodge and as the sun started to drop behind the hills some late evening clouds rolled in.  The play of light on the clouds was a real treat.  I ended up taking several versions of this scene and worked the shot up in both color and B&W.  The range of color at that time reminded me of some of the sunsets I had taken out in Colorado years ago.
Copyright © Paul Caldwell, Photos of Arkansas