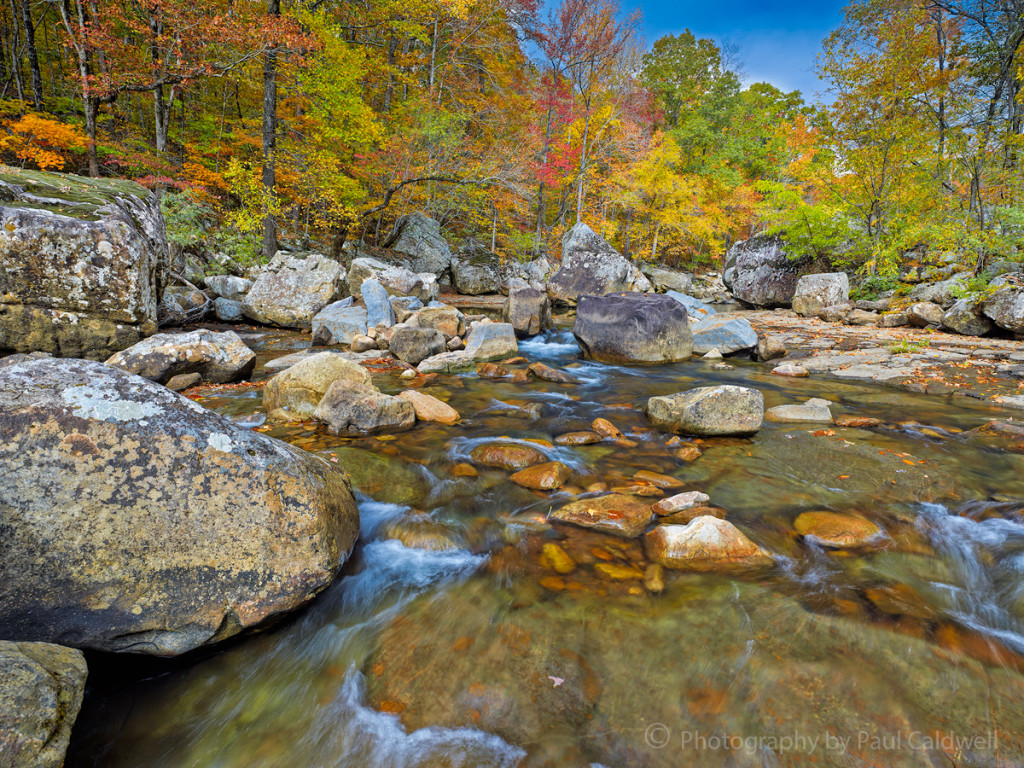 Taken with a Phase One IQ160 and Arca rm3di camera and Rodenstock 28mm lens @ iso 50 for 1/2 second exposure.  

I am a huge fan of Richland Creek, having spent at least the last 20 years or so exploring it's vast reaches.  I was lucky enough to Kayak this creek for over 10 years as that one of the best ways to get to know a creek.  Richland (the name comes from the fact that the mouth of Richland near Woolum Ford on the Buffalo was excellent farming land) has some beautiful features throughout it's length as it moves towards the Buffalo, but by far the best scenery is found in the 5 miles of the creek above Richland campground.  This shot was taken on a fall morning and the sun was popping back and forth between the clouds.  I was setup and waited on the best light for at least 20 minutes and only got about 2 minutes before the next bank of clouds rolled in.  The level of water in the creek on this day was low but in many respects this is an excellent level for photography as you can safely stand in the middle of the creek for the best vantage points.  One aspect of creek photography, if you don't plan on getting wet, don't bother.
This spot is directly below one of the larger rapids on Richland called, Shaw's Folly.  In this shot, look for the large rock on the upper right which is about the size of a small house.  This marks the end of the rapid and all of the creek in the picture is just the run out.  But in this shot you can see why I love Richland as it's just full of huge rocks and each one has it's own unique shape and color.  The water was gin clear this day so I was able to feature some of the bottom of the creek by using a polarizer to cut the glare.
Copyright © Paul Caldwell, Photos of Arkansas