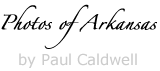 My contact informaiton
Thank you for the interest in my photography.  I have been working in the photographic arts since I was 15 and have been a professional photographer for the last 10 years.  All of the work on this site is available for sale in for the form of Digital stock or prints.  I produce my prints on either paper or canvas and can also work with you on selective framing options.   If you have any questions on a image on the site, please feel free to call me or email me.  I am also available for one on one classes with a 4 hour minimum.  These classes can cover any part of the photographic process, from capture to printing.
I am based out of Little Rock AR, but can cover all of the state, or U.S.
Sincerely
Paul Caldwell
13723 Rivercrest Dr.
LIttle Rock AR  72212
501-240-1477 cell
email: paul@photosofarkansas.com
Arkansas Photography
/
Custom Photographic Printing
/
Photographic Class
/
Photography by Paul Caldwell
/
Photography of Arkansas
/
Photography of the Ozark Mountains
/
Understanding Digital Photography Workflow
Copyright © Paul Caldwell, Photos of Arkansas